---
THE MAKUENI TWIST
---
Some place names are mentioned often enough to become familiar: Sultan Hamud; Emali; Kiboko; Makindu. Names that while evoking longings of long trips to interesting destinations are themselves usually thought of as places to "speed through", not "turn at".
The A109 highway joins these towns, which are within Makueni County. Input from friends and curiosity led me to consider the question: what's beyond the highway?
My giant Kenya counties map shows Makueni wedged between Kajiado, Taita-Taveta, Machakos and Kitui Counties. It is an 8,009 km² expanse waiting to be explored.
The plan: an early start from Nairobi along A104 onto A109 up to Makindu, turn in, ride to Makueni town, then to Machakos, loop back to Mombasa road (A109) and return to Nairobi by mid-afternoon – a fun 385km day trip. Also the chance to test my new lid (LS2 FF800 Storm).
A couple of WhatsApp group posts yielded willing accomplices. Start point, Total near Southern bypass/Mombasa road interchange. On the day, the early start gameplan didn't quite work out. 3 Dominar 400s and one Benelli 250 set off mid-morning to cool weather and mildly cloudy skies. Lots of traffic up to Athi River slowed the pace, and made it hard to keep formation.
Beyond Athi River the road opened up, and we were treated to more episodes of the long-running "Peculiar and dangerous habits of Kenyan drivers" series. One particularly memorable incident was of a white Toyota Corolla DX station wagon driver tailgating a trailer for a long stretch and then suddenly pulling out to overtake, right into the path of an oncoming trailer. There was wild fishtailing and panicked emergency braking from the car going off-road and back on as the driver struggled to regain control. The driver was very lucky, and probably needed a diaper change after… As a rider, it's important to always stay alert – I was one car behind and could have been caught up in the melee if i hadn't kept "social distance". We saw some overturned trucks along the way as well.
Our first stop was Emali (114kms), where bananas from a fruit vendor were the roadside snack of choice. Eden Mart supermarket and the Shell petrol station next to it is a convenient stopover point to refuel and get travel supplies. There's also a restaurant there for quick meals.
Next stop, Makindu (161km), to refuel, hydrate, and shed a layer – it is warm in these parts. The Sikh temple here is a notable landmark. A 70km class B national trunk road links Makindu to Wote (Makueni town). Once you join this road and clear the temple and shops area it starts to open up. But stay alert – a couple of kms on there are some serious bumps just as the road starts to become fun.
About 15km out of Makindu there's a bridge over a river that's quite nice. We stopped to take in the sights, snap some pics and stroll down to the sandy river bank. In this semi arid landscape, there's little in the way of faming activity. A local couple on a tuk tuk pick up were filling up 20 litre drums with water to sell to the nearby communities. City folk take such basics for granted. Things are different out here.
At the river hangout another Dominar rider who'd been delayed in Nairobi managed to catch up. Our posse was now 5 strong.
The road to Wote is pleasant, with gentle corners and gradients. Kathonzweni, as catchy a name as there can be, is an interesting small town. Everyone seems to have heard of it. As you get closer to Wote the road rises and corners become sharper, and some fun twisty bits emerge. Hills start to dominate the horizon. On the outskirts of Wote we passed an accident scene – a tuk-tuk taxi overtuned in a ditch, three wheels pointing to the sky.
As you get into Wote the local fire station compound catches your attention: its bright white perimeter wall with painted graphics is a unique touch – credit to the county government for some out-of-the-box thinking there. A football match at the local stadium next to the road was in progress as we rode past and looked interesting – tempting to park and watch for a bit, but we were running late.
We stopped for lunch at Eden Mart Supermarket at the heart of Wote. They have a hot food buffet section. Pilau mboga for 200/= worked for me. Gearing up for departure after the late lunch, it was around 4pm.
After refuelling at Shell we pressed on, aware of the time left to sunset. The 73km long B60 to Machakos is a brilliant bit of road. A ribbon of tarmac that winds its way through the hilly landscape of Kilala, Mikuyuni, Kivaani, Mumandu and Kitooni. It is a feature-packed and absolutely fun route. The climbs, dips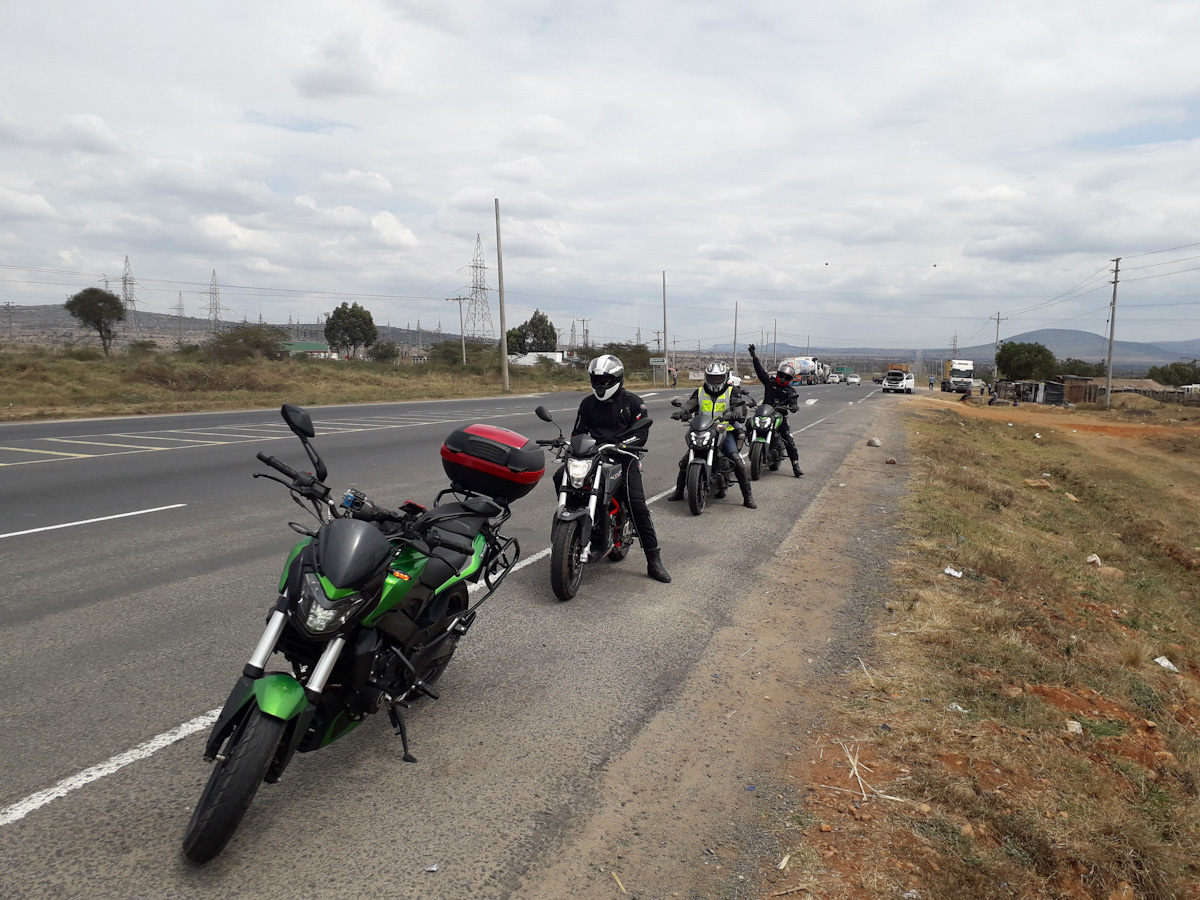 and hairpins entertain: there's enough there to keep you alert and challenged but not intimidated. The horns just grow out of your head. Advanced riders will relish the technical challenge of shaving a second here or there, while newbies will enjoy the experience. And everyone will appreciate the scenery, the terraced hillsides adding texture. We crossed some interesting rivers as well, Kaiti being the most notable on the outskirts of Wote town.
From Machakos, a twist on the initial route plan was mooted: return to Nairobi via Komarock (Kangundo Road), and onto the Eastern bypass. A longer route, flirting with an after-sunset arrival, but with the promise of more fun – no one seemed keen to go back to the A109. The climb up the Mua Hills via the C443 road did not disappoint. The lengthening late afternoon shadows revealed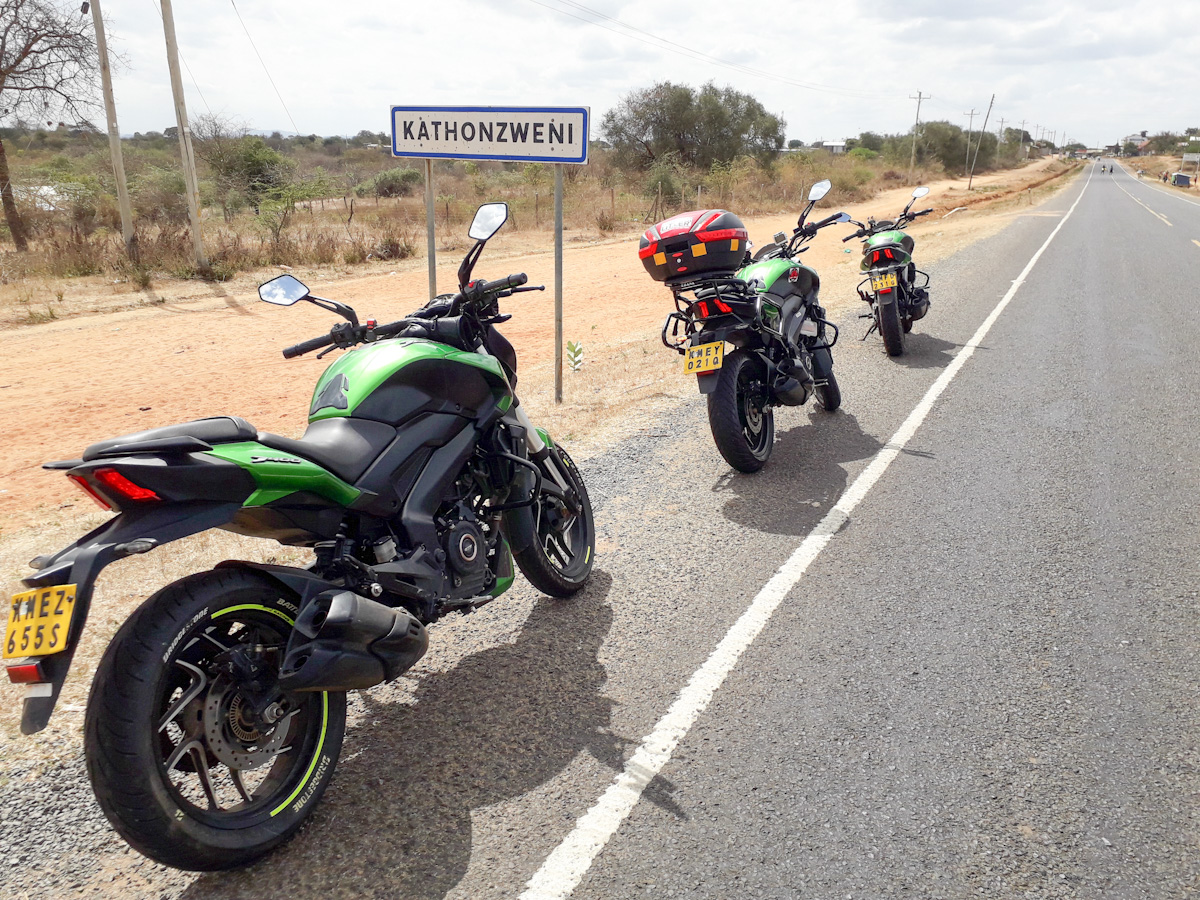 a hilly, fertile landscape. In places the road curves back on itself, a twisty delight that keeps you entertained throughout. Once clear of the hills the route becomes mundane. Turning off C443 onto the E474, it is a straight shot to Komarock. As twilight fell we endured the narrow, busy 25km stretch of Kangundo road through to Ruai, and onto the Eastern bypass.
In summary:
*Total distance covered, 405km
*The route: From Makindu to Mua hills is a wonderful ride. Great landscape with plenty of interesting stops – rivers, scenic viewpoints, etc.- 5 stars.
*The helmet: at 15k the FF800 series is priced on the more accessible end of the spectrum, but has some upper end features like pin lock and comes packaged with an anti-fog visor you can snap in (which I haven't used yet). It seems to handle anti-fogging better than my previous lid even without the pin lock. Nice graphics. Sun visor is effective, and made a big difference riding in harsh mid-day sunlight and into the late afternoon sun. Feels light on the head, good inside fit and padding is comfy. Works well at night too. You do feel a bit of wind the at cheeks as the pace picks up though, so minus points for that. Overall, feels like good value for the price. 4.5 stars.
Ride smart, ride safe!
Written By: Eric Kihiu