KENYA: A TRIP TO THE NORTH
KENYA: A TRIP TO THE NORTH
---
Trip to the north: 1,400 km of sand, rocks, and corrugations
A group of nine riders (a KTM 1290 Adventure, two BMW R1200 GSs, a BMW 850 GS Adventure, a BMW F800 GS, a BMW 310 GS, a BMW F700 GS, a BMW 650 GS, and a Yamaha Tenere 660) set out on Monday, Aug. 17. The trip started from Tigoni, where we all met at 6.00 am. We rode in very strict formation all the way and back – with each person memorising the design of the headlights of the bike behind him! We had two support vehicles all the way, plenty of food and water. The riders were all mature: youngest at 20, and the oldest at 60. Majority of the riders were above 35.
Trip itinerary – summary:
Day 1: Nairobi-Tigoni-Nyahururu-Maralal (370 km, 20% off-road). The Nairobi-Flyover-Nyahururu-Rumuruti road is all tar, but characterised by potholes and washouts. The new tar road heading to Maralal passes through sparsely populated and beautiful scenery. We went through a relatively easy 70 km or so off-road to Maralal. The road to Maralal is still under construction. Thompson Falls was the highlight of the trip. The fuel stop was a not-so-enticing fuel station at Rumuruti – which is growing. We saw evidence of new tarred roads criss-crossing the town! At some point, the tar road ended and we started on the hard-packed gravel. We reached Maralal safely. We camped at a facility just outside Maralal.
Day 2: Maralal-Baragoi-South Horr (140 km, 100% off-road). 140 km off off-road through the very insecure and infamous Suguta Marmar Valley, difficult off-road, mud, sand, loose gravel, mountain ranges, corrugated washouts. The valley is mesmerizing. Untamed, totally wild. Undulating valleys and jagged peaks. At one of the majestic peaks of the Suguta Valley, we came to an incongruous scene – a large gathering of people preparing boiled maize. We bought the sweet maize and enjoyed it thoroughly!
Baragoi has seen killings, beautiful as it is. Just before Baragoi, we met a platoon of special AP soldiers manning an observation post. They gave us company all the way to Baragoi. We swept by past Baragoi and proceeded onto the next village, South Horr. We camped by the river at South Horr – although only a handful of the eleven riders went to the river for a complete dip.
Day 3: South Horr- Loiyangalani through Lake Turkana Wind Power Station (90 km, 100% off-road). This was 90 km of extremely difficult off-road experience. We stopped at the power plant and gazed in wonder at the 360+ wind turbines that generated 310 MW of power, which is fed into the national grid. The last 30 km is bike- and soul-destroying – made all the more difficult by the howling wind, which wants to topple your bike. Unbelievably difficult. Single track, loose gravel, nearly zero traction, deep deep sand! Highlight of the trip was a dip in the Jade Sea (aka Lake Turkana), and sunset watch on the eastern shores.
Day 4: Loiyangalani-South Horr-Ngurunit (170 km, 100% off-road). 170 km extremely difficult off-road, now made even more since it is uphill from Loiyangalani to the wind power station (47 km). The wind was extra powerful and made the ride to be ultra-difficult. You can only ride on gear 1 (80%) or gear 2! We crossed countless oceans of sand, sand, and more sand. Riders were falling left, right. We stopped at the Singing Wells of Illaout and participated in a planning session for an upcoming ceremony to circumcise young Samburu and Rendille morans. We contributed funds for the program. Second highlight of this part of the trip was a hike to, and a dip in, the soothing mountain river in the Ndoto mountain ranges.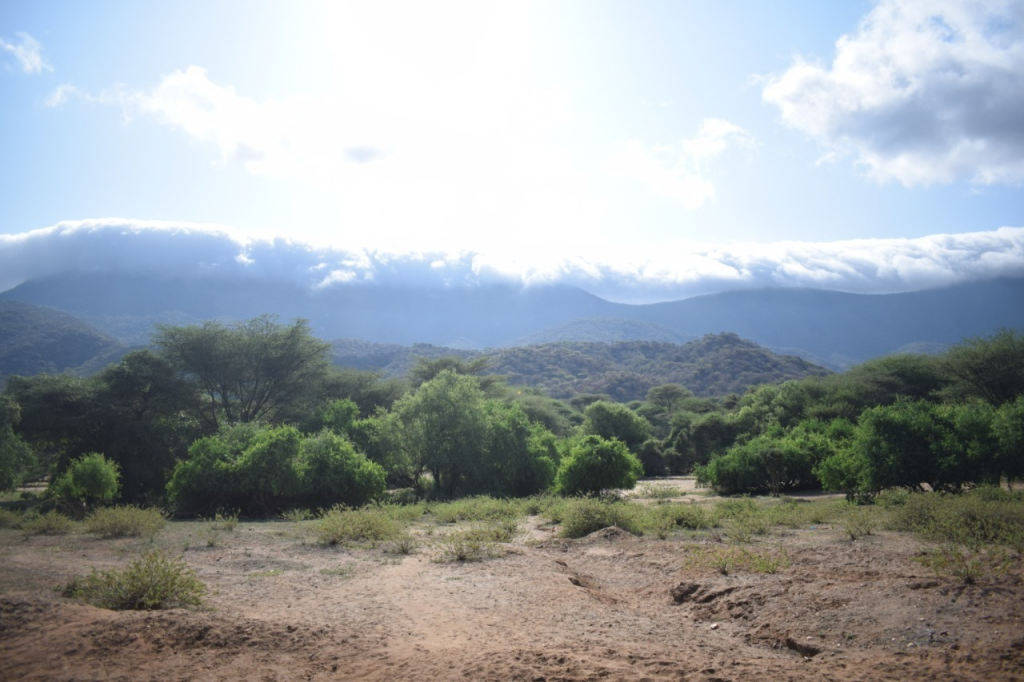 Day 5: Ngurunit-Laisamis-Archers Post (230 km, 26% off-road). 75 km off-road mostly. Extraordinary section, which crosses the infamous Milgis lagga. Rutted beyond belief – we tried going "off the offroad," but the zero-traction sand forced us to go back to the bone-jarring rocky corrugations, which chewed rubber off our tyres (I put on a new set of Metzeler Karoo 3 on my bike
– and in six days already 20% of the thread is gone). Oceans of sand and bike-destroying rocks. A particularly difficult river crossing proved easy on my GS. We spent the night at a campsite by the Ewaso Ngiro river.
Day 6: Archers Post-Isiolo-Nairobi (310 km, all tar). Uneventful ride home, with a great stop in Timau for lunch and Nanyuki for the obligatory photos at the equator sign.
In all, roughly 1,400 km travelled, half on sand, rocks and corrugations.
By: Abdi Zeila