A 9 Countries Tour On A GSXR-1000cc
---
A 9 Countries Tour On A GSXR-1000cc
---
I'm Kagisho Leeuw, well known as Love Smith. I was born in Maologane Village, Kuruman. I'm currently based in Potchefstroom, North West and by profession I'm a nurse and who just loves riding. I own a K6 GSXR 1000 and decided to name it Covid Micron, ithas been almost everywhere, just like the deadly Covid-19 Virus.
The beginning of my epic 9 Countries Tour began in Lesotho. This was on 24 April 2022 where I received by Mahata Mmoho MCC. We went to play a bit in the mountainous Kingdom, enjoying some twisties around Thaba Tseka and Mohale Dam. I left the following morning for Cape Town. As I was preparing for my departure to Namibia, I received horrific news that a fellow biker, Wonder Hleza had gone missing. The fact that I was with him few hours before his last seen was extremely heartbreaking. He was found demised 9 days later, May His Soul Rest in Peace.
Despite all odds, I continued with the tour to Namibia. The road was very long as I was riding alone. Temperatures became extremely hot during the day, but then it started raining at night. But nothing could stop me until I reached my destination. I arrived in Windhoek just after 23h00, though I was cold I eventually managed to get some good sleep. In the morning I received a warm welcome from Eenghoshi Namibia Bikers, they accompanied me and rode with me to Windhoek towards Swakopmund. I was now enjoying my experience along our beautiful coastline, the atmosphere, the vibe and beautiful and friendly people. I've been on a quad bike before but riding on the dunes was such a scary and amazing experience. I would do it over and over again. The Camel ride was exactly what I needed as it gave me a great massage around my waist as I was riding it around the Namibian Desert. These wonderful experiences are all attributed to Eenghoshi Namibia Bikers who decide to slightly change my programme . I was supposed to go to Angola but they made me feel at home. Khishi said "Love, you need to relax", I learned how to relax and it really took away my nervousness and anxiety. They made so many sacrifices just to spend some time with me. That alone showed me that brotherhood still exists in Bikerville. As if that was enough, as a club, they booked me in a very nice and beautiful hotel and filled up my tank. The following morning they escorted me to Angola.
From Angola I rode to Botswana but I had to sleep in Rundu because it was getting dark and I had to cross a place full of wild animals. I booked myself in a guest house, and later I went out to play with other kids. It was great, I was welcomed by strangers and I realized that in Africa….We Are One. After clubbing I immediately went to sleep. Uncle alarm did his job and I woke pronto allowing Covid Micron to warm-up and idle a bit. As I got on my bike the receptionist said "Sorry Sir, here is your refund, Basanta paid for your stay with us". Who is Basanta? Oh he is a guy in Africa Tours group. My phone rings, I answered. "Hello brother I'm a bit delayed but just wait for me at Shell garage" said Basanta. Ok, I've never seen this guy but he sounds African. I waited at the garage and remembered Khishi's words "…RELAX…". Few minutes Basanta arrived and said "sorry brother I'm on duty but I'll will escort you". Something said check if he has colours, and yes he did. He turned out to be a member of Eenghoshi Namibia. He escorted me 220km and filled up my tank when we departed. I was so emotional and happy at the same time. He warned me of wild animals on the road, I silently said "I can be wild if need be". I rode down a very long road to Kasane Botswana. Botswana was great, I managed to get a ride on a boat which took me to Kasangula Bridge. It had always been my dream to see the only place in the entire world where you get water from 4 countries meeting at the same point through the Zambezi river. The feeling was indescribable, I even remembered how I used to struggle with Map Work in high school. For a moment I thought I must upgrade my geography marks. I rode to Zambia in Livingstone and Woooow!!!! The hospitality was great. I did not know anyone but I felt safe and at home, yes I am an African. Not because I was born there, But because my heart beats with that of Africa. I felt spiritually connected with my continent and it's people. Not because of the colour of my skin but because my mind, body and soul is in tune with our beloved continent.
The night life experience in Zambia was something else, I couldn't believe there are no police and traffic officers at night, what a Woooow!!!!! I went to view the beauty of Africa, the mighty Victoria Falls. I so wish everyone could visit those falls. The atmosphere and ambience is so therapeutic, almost feels like a spiritual journey of sorts. This experience made me appreciate the wonderful and beautiful nature of Africa. I then decided to be brave than ever, guess what! I chased the lions to the cave. No matter the economy of the jungle I shall never eat grass, it's not pride it is who I am; I'm Kagisho Leeuw.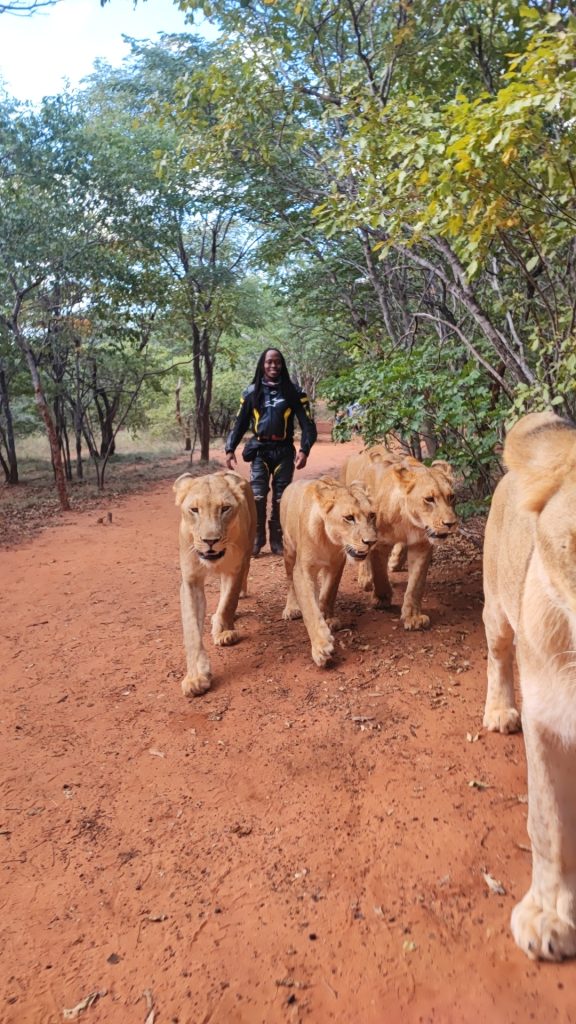 My entry to Zimbabwe was not easy at all. Their speed point machine was offline. I paid in dollars and they did not have change. I asked to cross to look for change but they refused. They forced me to leave my bike and use a taxi which charged me 6$(R100) single trip to town which is less than 1km away. I managed to get change and paid but still they made me wait 30 minutes without saying anything. For a moment I got mad but Khishi's words paid a visit "Relax". They actually wanted me to pay "Tjotjo" but they were scared to ask for it. I am an African child, I'm always with my ancestors; ke nale seriti, ke ngwana wa badimo. After all the deliberate delays, I decided to push until Francistown in Botswana, the road was horrific. I crossed to SA through Botswana to reach Eswatini. My arrival at Oshoek Border was filled with joy and happiness as I met brothers and sisters in Bikerville. The spirit of Hyena Rally kicked in. Let the game begin, Eswatini was shaken and blessed with a successful charity event followed by great vibes at the Rally side. Last man standing, I was the last one to leave the Rally site. Around this time, Mozambique was calling my name, and I responded. I have been to Mozambique several times, but on this particular occassion, it was a different experience all together. I witnessed another side of Mozambique, the most beautiful side. Time flies, especially when the mind and soul are all at ease. I had to come back home to the motherland, South Africa. In a nutshell, this entire trip made me appreciate the beauty and warmth of my continent even more. I am an African, I love Africa, I love riding, I ride to live and I live to ride.
Thanks to everyone who participated in this Tour.
Words By: Kagisho Leew