---
KENYA: GOGO RACING TEAM
---
Shaiman Mughal
Race Name: ​GOGO
Race number:​ 46
Year started racing: ​2011
Experiences in racing:​ 2018 Kenya superbike road racing champion; 2019 Kenya superbike circuit racing champion, 2019 Redstar South Africa , fastest time set for team Kenya
Challenges:​ Sponsorship, resources, support locally to help grow the industry
Memorable moments:​ winning the championship twice in a row, exclusive racing training at Cadwell Park in the UK, twice qualifying and representing Kenya in South Africa competitions
Aspirations: to race internationally for Kenya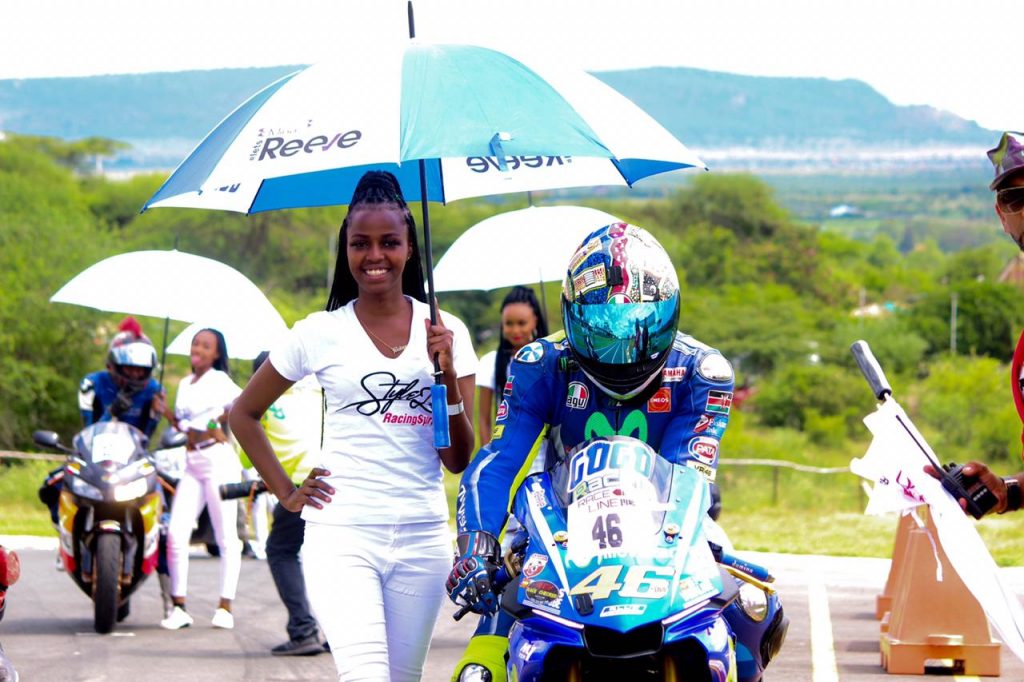 Mina Reeve
Race Name:​ Mina Reeve
Race number:​ 412
Year started racing:​ 2019
Experiences in racing: ​Best lady biker of 2019 awarded by MSFK (Motor Sport Federation Kenya). 4th place overall in the EASBC (East Africa Super Bike Championship), and 3rd place overall in the NSC (National Superbike Championship).
Challenges:​ Sponsorship, resources, support locally to help grow the sport
Memorable moments: ​getting a podium finish as a lady among all the men in one of the competitions, clocking the fastest lap time on track (circuit) among women in Kenya, exclusive racing training at Donnington Park in the UK.
Aspirations: ​to race internationally for Kenya and build a racing team to help grow other women in this sport. I also aspire to promote Parkinson's Awareness Campaigns and come up with donation ideas towards helping and supporting the Parkinson's Support Group in Nairobi.
Isaac Mwangi
Race Name:​ Izzoh (The power maniac)
Race number:​ 59
1st year of racing:​ 2019
Experiences in racing:​ Racing is as good as all other sports. It's fun and expands ones growth in other areas of their social life. It has taught me a lesson that to excel in sports, one needs active participation and practice. I have achieved 3rd position in my second attempt of racing. 2nd position in my third and fourth attempts. And 1st position in my last attempt during the end of the season.
Also achieved a position as a racer in the Gogo Racing Team in the super sport category (600cc).
Challenges​: Bike racing can be an expensive affair. It's a challenge to keep up with all the running and maintenance costs.
Memorable moments:​ Will always remember my first race where I really pushed my limits and my bikes as well. I crashed three times in different heats, but still that didn't kill my spirit. I continued to the end of all races without giving up. I also remember my first win during my first year of racing at the end of the season. During my last two races in the 2019 season, I realized how much improvement one can make when you have determination and support from your fellow team mates. It takes a strong sense of maturity to heed advice from fellow teammates. It has always been good to be in a team that's progressive and inspires you to reach your potential.
Aspirations:​ Becoming better and faster in a race track and make what seems impossible possible to our new upcoming racers.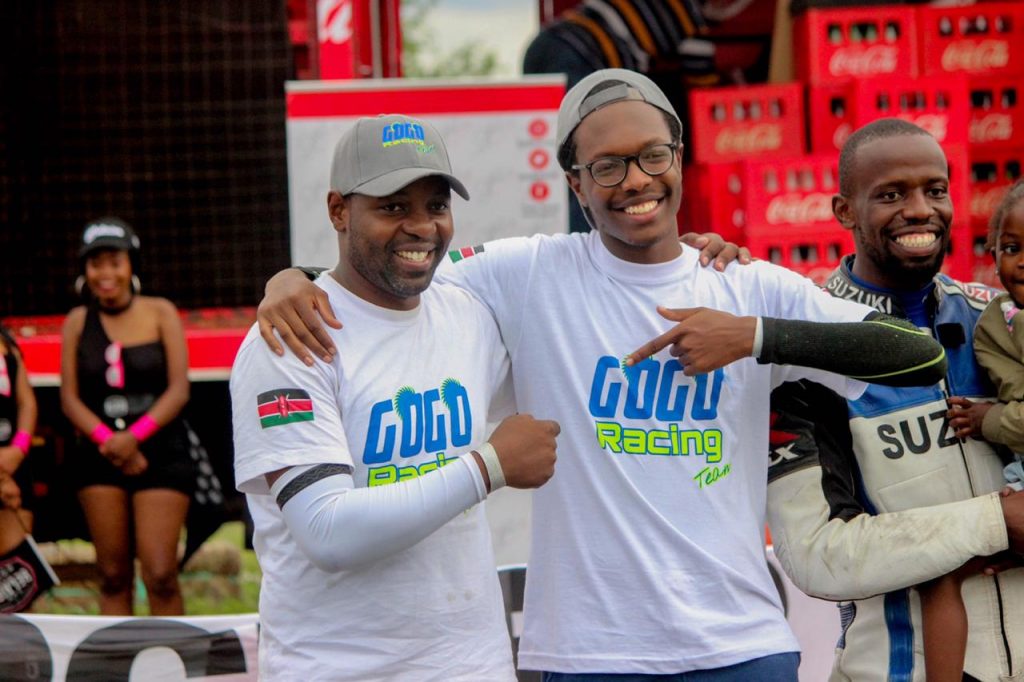 Peejay Gathaiya (age 21 – student at Strathmore Law School 4th year)
Race Name: ​Peejay
Race Number:​ 19
1st year of racing:​ 2018
Bikes: ​2017 Honda CBR600RR; 2009 Suzuki GSX-R1000; 2019 KTM 390 Duke
Experiences in racing: ​First place EASBC 3 2018 – 600cc category; First place EASBC 4 2018 – 600cc category; First place Class C at RedStar Raceway (South Africa) Round 6 2019; Most Improved Racer in the 1000cc category 2019; Second Place MotoChamp Round 2 2018 – 600cc category; Second place MotoChamp Round 3 2019 – 1000cc category; Third place overall in the EASBC 2019; Third place EASBC 1 2019 – 600cc category; Two pole position starts in the 1000cc category – EASBC 2 and MotoChamp Round 3 2019
Challenges: ​The inevitable crashes during races are a setback, however they have taught me the limits of the bike and the track, as well as my own mistakes which are valuable in preparing for subsequent races. It is also a trial when the bikes break down and require maintenance, most times from crashing during races. The wait to return to the track can seem long and tedious, especially as one is itching to get back on the saddle and work on regaining confidence. Sometimes one can feel they have hit a wall in terms of lap-times and performance during the race. It can be difficult to feel like you are not making any progress, however I snap myself out of it and keep working to be better as there is always room for improvement. Having the spirit of not giving up helps develop the mental fortitude that motivates one to focus and keep performing.
Memorable Moments: ​I have been lucky to have the opportunity to race in the 600cc and 1000cc categories in the last two years. I began riding back in 2014 and participated in my first race in 2018. Perhaps my most memorable experience was entering and winning my first race at The Great Rift Valley Circuit (TGRV), during the third leg of the East Africa Superbike
Championship (EASBC) in 2018. I was extremely nervous and had a crash during warm-up, nevertheless I was still able to overcome the nerves and win the race. Competing in South Africa as part of the Kenyan delegation sent to represent the country also ranks high on my list.
Being part of the team sent to race in March and November 2019 was a true honour, with the crowning moment being placed first in my class during the final round of the competition held at RedStar Raceway. Racing in the 1000cc category has been exhilarating, as the speed and power of the bikes is a huge step up from the smaller capacity bikes. Sharing the track with former national champions and battling for the lead has taught me an overwhelming amount and listening to their advice after races has helped me grow exponentially.
Aspirations: For the 2020/21 season, my goal is to compete in the 400cc category so as to challenge myself under different circumstances on the racetrack. It is also an opportunity to keep working on my skills and the more technical aspects of riding, as one never stops learning. Every experience on the track is an opportunity to grow mentally and practically. Switching to a 400cc bike is also to serve as a platform to later on go back to the 600cc and 1000cc categories in future seasons and be even more competitive in the hope of winning more championships.
Being 21 and currently the youngest racer in the both the East Africa Superbike Championship (EASBC) as well as the National Superbike Championship (NSC), I also hope to inspire the youth to not give up and keep putting effort in their passions and dreams, as the future is in our hands
Ngina Njoroge
Race Name: ​Ngina
Race number: ​18
Year started racing:​ 2020 (Depending on C—19)
Experiences in racing and challenges:​ I am still at the practicing stage and getting to know my bike and the track, it can get a little intimidating sharing the track with really fast and experienced racers who might just want me to get out of their way but I have grown to be comfortable occupying the space and focusing on my own skills on the track.
Memorable moments: ​Being voted Newbie of the year in the biking community in 2019, just a few months after I had gotten my bike. Being signed onto the Gogo Racing Team as part of their Women in Motorsports initiative.
Aspirations:​ I want to grow my skill in my category and in a year or two compete in the Blu Cru Africa Cup Championship. I want to inspire girls to go after what they want and to be unapologetic about the things they are passionate about.