---
BIKER DJ: EUGENE TSWAKA
---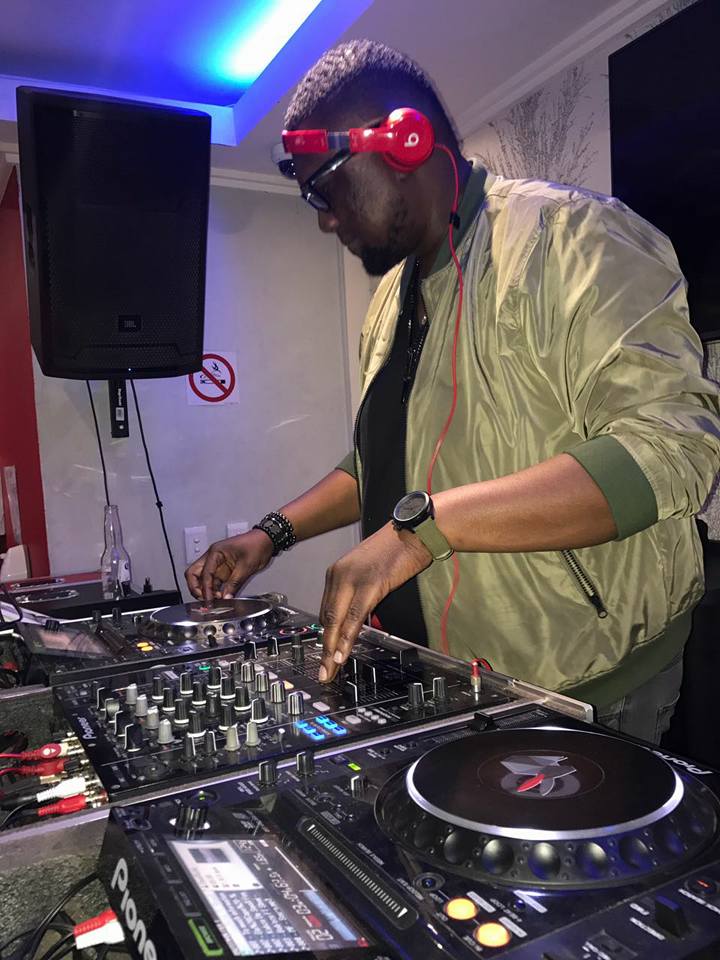 My name is Eugene "Tswaka" Chauke born and raised in Mamelodi
(Pretoria). My journey as a dj began in 1996 when I first saw one of the
local djs at that time playing on turn tables at a 21 st birthday in my
street and that's when the interest and passion was born.
The nickname "Tswaka" was given to me by my high school mates as
"Motswako" because I was always in charge of organising bashes and
providing the music, I would play at private parties and at school bashes
that permitted outsiders to come to their events and over the years the
name was shortened from "Motswako" to "Tswaka"

I have always had a love for music coming from a family that loved
hosting gatherings for friends and family, my father played a big role in
teaching me music. Songs by artists like The Ojays, Isaac Hayes,
Clarence Carter, Marvin Gaye to name a few were the foundation of my
love for music. As times evolved, so did music.
I bought my first pair of turn tables (Standton – Belt Drive) and mixer
(Gemini 626) in 2001. My first vinyl was given to me by my brother
(Nightcrwalers – Push the feeling). I used my lunch money to save up
for buying vinyls and with time the passion and skill grew immensely.
My journey as a biker started when my family moved to the suburbs of
Polokwane and we had white neighbours who had 125cc bikes which
they used to go to school with. They taught me the basics and dynamics
until I was perfect in riding, then in 2007 I bought my first bike which
was a Suzuki GSX-R 1000 (K4). The first bike event I attended was Sapa
Yopa in 2009 and that was where my passion for biking began. The
atmosphere was so electrifying and the vibe was so overwhelmingly
awesome that no other event besides bike events made sense to me
anymore. I knew deep in my heart that I have found my home. I then
joined a club in 2012 (TopShayela Mcc) which is based in Mamelodi
(Pretoria) and then later joined Number 1 Stunners which is the club
I'm currently with and is based in the East Rand – (Johannesburg)

My first appearance on the bikerville stage as a dj was in 2016 at the
Mzansi Rally which was held in Budu Inn. After speaking to the
organizers about possibly being featured on their line up, I was granted
30min play time to audition and with that 30min, I convinced bikerville
& organizers that I could be a force to be reckoned with. Going forward,
I approached dj's that were well known at the time in bikerville and
asked them to feature me, most were reluctant but there was always 1
who gave me 30min of his play time (Kagiso Ramashala – Pyed Pyper)
and he played the role of advocating for me with the hosting club to
give me a proper slot and payment for it. After playing for the first time
in Swaziland (Mahala Marquee) at the Swazi Rally, that is when the
name "Tswaka" became a familiar name in bike events.

A friend I met in biking Lerato Mabokela played the role of managing
me and getting me gigs with hosting clubs and always insisted to never
sell myself short as at times I would be faced with having to play for
free or for a very mediocre fee.
I've always taken an interactive approach to my style of music/playing, I
feed off the energy of the crowd when I'm on set and that is why I
always make sure that the crowd is always on their feet and are
positive so that I can receive their positive energy and transfer it on to
the decks to create that 1hr of magical music & memorable experience
when they leave the event.
2020 is now upon us and we live in unfamiliar times where we are not
allowed to go out and have public gatherings as such bike events have
been cancelled. That is how the concept of The Online Dayjol was
realized. After some weeks of research and assistance from a friend
who believed in the project the first time I presented it to him Jacob
Motlou (Jukebox) together with other key players, we brought the
show to live. The show runs twice a month as like a normal dayjol in
biking, we have 2 per month.

The idea is to keep bikerville connected even in these trying times by
logging onto the show and interacting with each other and listening to
their favourite biker dj in the comfort of their own home as they would
do at a normal dayjol and so far we have had a great response from the
masses and would love to extend my gratitude to all those who tune in
and watch the show. Also would like to thank Sifiso Themba (63 Nation)
for jumping on board as our sponsor for face masks. He has been with
us from day 1.

I would like to send a special thank you to everybody who supports
Tswaka, I am now where I am as a dj in bikerville because of you and for
that I am truly grateful and I hope to see you all again after the
lockdown at our favourite hangout (Bikerville). #ReOnlineChomi