---
RIP Trompies
---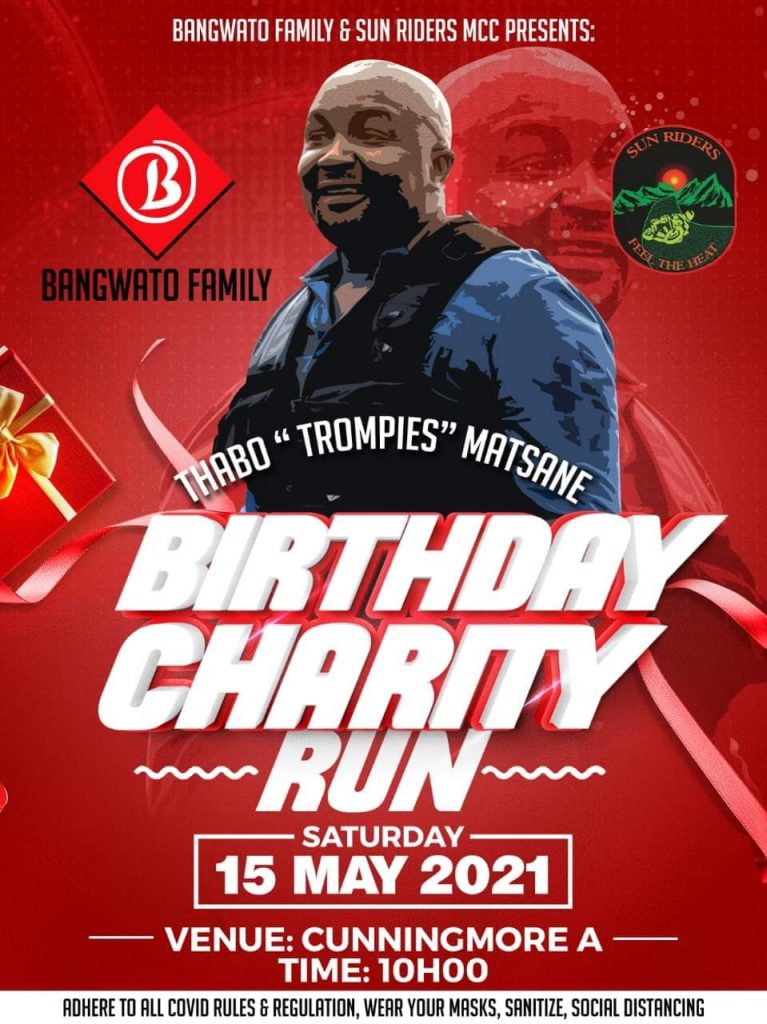 I was introduced to Trompies by a friend, a fellow biker and member of Sun Riders Mcc -Stanzo. Upon introduction, Trompies realized that I was an independent rider and therefore immediately started educating me about the patch culture. I was immediately sold on the idea and at that very moment decided to join Sun Riders.
He was extremely welcoming and thoroughly explained to me everything that would be needed from me before I could become a fully patched Sun Riders Mcc member. It was hereafter that I was formally introduced the the rest of the Sun Riders Mcc family.
As time progressed we drew closer as we found a strong synergy in the love and passion for biking. He became my mentor and he introduced me to the rest of the biking community locally, provincially, nationally and internationally. We began attending a lot of biking events around Mpumalanga, Kwazulu Natal, Gauteng, Free State, Northern Cape, North West, Polokwane, Swaziland, Mozambique in support of charity events hosted by biker clubs in those respective regions. His love, passion and commitment to biking was known by not only bikers, but his immediate community as well. He had a motto, support 4 support, and often emphasized how important it is that we take care of each other. His humble personality granted him found favour and protection from many bikers, friends and business associates at times when he faced challenges. But what surprised me the most about him is how he always kept calm and focused on the goal.
What made his leadership style unique is he was a thorough thinker, and never allowed emotions influence his decision making. He was later elected the President of the club and I became the PRO and our relationship grew closer as we would work together as executive members of the club. Due to his humility and authoritative presence, I found it easy to learn from him and became an even more committed member of Sun Riders Mcc. His hard work extremely visible in the biking community, and was immediately requested to serve in the Africa Bikers Council exco.
We continued working side by side, and eventually started doing business together. I can attest to him being a perfectionist, a hustler of note, a calm soul, a man of authority, respectful, free spirited, people's person, friendly, fun loving person, full of humour, loving and caring, loyal, and extremely charitable. He was very committed to helping people, and taking care of his family. There are many families that he was looking after. He was an advocate of progress. One of his principles was to never concentrate on one business, rather have many different businesses so that when one fails you can hang on to the others(NEVER PUT ALL YOUR EGGS IN ONE BASKET).
Trust, loyalty, respect and honesty was the foundation of our friendship. He would ask me to go assess the conditions of cars that he wanted to buy as he was also a collector and lover of nice cars. He trusted my gut feel and decision making. We both knew each other's tastes and preferences. A week would hardly pass without checking up on each other. He knew my family and I knew his. He had a great network of powerful friends in the public and private sector even though he personally kept a low profile. He wasn't too fond of people full of pride and ego. And even though he was MC at most biking events, deep inside, he was an extremely shy person.
I received the sad news of Trompies' passing via our clubs Secretary General after he posted the sad news on our our group chat. At that very moment, I was busy on my laptop preparing for a charity event that he had instructed me to plan, implement and coordinate. I started calling his family to confirm and what I had just been told. Everything stopped!!!! I didn't make any sense. I mean I had just spoken to him 3 hours ago. We had a conference call meeting with Exco and then we drove to his house in Barbeton from Nelspruit and indeed we found the family already at his house. Emotions went above threshold as I drove in his yard and saw all his cars parked. It immediately dawned upon me that and my brother, my President is no more.
All the plans and discussions we had concerning the future of our businesses and projects disappeared into thin air. I am happy that the club and various stakeholders we managed to pull off his very last wish of a surprise party for Mathapelo, a lady who was diagnosed with a heart condition and kidney failure. Mathapelo was a big fan and a follower of bikers, more specifically Sun Riders Mcc. She's a big philanthropist in her own space.
We then sat in the family meeting and started assigning each other duties and responsibilities for the preparation of the funeral. Fortunately, with the help and commitment of the family, bikers in and outside South Africa, biking clubs, bikers belonging to different biking forums, lone riders, business associates, the ANC, friends and the community at large, we managed to work together collectively to give a dignified send-off to the President of Sun Riders Mcc.
Acknowledgement :
ABC RAMBO BIKERS OF AFRICA ALPHA BIKERS LIVES MATTER BIKING CLUBS SADC BIKERS 9 PROVINCES 9 DAYS SUN RIDERS MCC MATSANE FAMILY BUSINESS ASSOCIATES ANC ANCYL ANCWL LIGWALAGWALA FM SUPER B MASAKHANE BANGWATO GROUP ABOVE AND BEYOND PRO 76 LOGISTICS SAPS TRAFFIC DEPARTMENT TOPS FUNERALS
We are going to come back stronger as we inherit and carry the legacy of brotherhood and sisterhood, Ubuntu, not forgetting the spirit of support 4 support .Hamba kahle President Thabo Welcome "Trompies" Matsane. Till we meet again